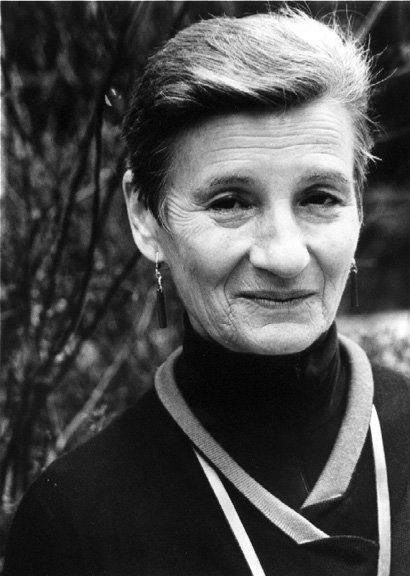 "When I am at my best, I am the handmaiden of the art.
I'm not leading it. It's leading me."
Bella Lewitzky
"Great control of every motion and placement is a kind of self-care. It's self-love in the best sense. I make a contract with the dancers (not literally, of course) to keep them alive and well and progressive-doing level best to see that they're not injured. One must bear in mind, that dancing is not normal, that only a strong, knowledgeable body can protect against damage."
Bella Lewitzky
from an interview with Donna Perlmutter, Dance Magazine, January 1997
Bella was born on January 13, 1916 and died on July 16, 2004. She will always be remembered as a wonderful modern dancer, choreographer and noted teacher.
Born to Russian immigrants, Lewitzky spent her childhood in a utopian socialist colony in the Mojave Desert, and on a ranch in San Bernardino. Although she first studied ballet, in 1934, she joined Lester Horton's company, became its lead dancer, and was instrumental in the development of the Horton Technique. There, she met Newell Taylor Reynolds; they married in 1940.
In 1946 Lewitzky founded Dance Theater of Los Angeles with Horton. Dance Theater of Los Angeles was one of the few institutions in the United States to house both a dance school and theater under the same roof. She left the company in 1950 to pursue her own interests and an independent career.
She choreographed the films Bagdad (1949 with Lester Horton) , Tripoli (1950) & Prehistoric Women (1950).
In 1951, she was subpoenaed by the House Un-American Activities Committee to answer questions about communist activities in the arts. "I'm a dancer, not a singer," she replied.
In 1955 Lewitzky gave birth to her only daughter, Nora Reynolds. In 1958 she became the founding chair of the dance department at the Idyllwild School of Music and the Arts, which has since been renamed the Idyllwild Arts Academy. She taught at the school until 1972. Her daughter, Nora, joined the dance faculty in 2003 and continues teaching Lewitzky technique. The Idyllwild Arts Academy is one of the few dance programs in the United States that offers Lewitzky Technique as part of their curriculum.
In 1966 she founded the Lewitzky Dance Company (Bella Lewitzky Dance Theatre) and was appointed Dean of Dance at the California Institute of the Arts. Her company performed and toured internationally for the next thirty years.
Under her artistic guidance, the company became one of the leading international modern dance companies, performing to critical acclaim in 43 states across the U.S. as well as 20 countries on five continents.
The originality, humanity and unconventional qualities for which Lewitzky's dances are famous often found their way into the management of her company. At a time when it was fashionable for dance companies to be based in New York — and dangerous not to be — she kept her company operating out of her native Los Angeles for thirty years.
Her originality, humanity and unconventional qualities also led to a controversial episode in 1990, when she crossed out the anti-obscenity clause on the acceptance form of a $72,000 National Endowment for the Arts grant. She eventually had to sue NEA-chairman John E. Frohnmayer to have the grant reinstated. The New York Times quoted her as saying in response, "I've been struggling in dance for 28 years. To exist merely to exist is stupidity. To exist to make art is a pretty grand act."
Although her company was forced to disband, Lewitzky ultimately prevailed and won the judgement. Gathering her forces, she re-united her company and in 1997 organized a farewell tour and gala before its permanent closure. Lewitzky's life is an important and untold American story, one affecting every citizen.
Although she no longer performed, her creative energy continued unabated, with each year seeing the creation of at least one eagerly awaited new dance. She never stopped caring about her art form, a fact borne out by the numerous awards she received for service to dance and the advisory and honorary positions she held on boards and councils of prestigious arts institutions across the nation.
Bella Lewitzky died on July 16, 2004. At 88, her physical health had deteriorated but her vital spirit continued to inspire those around her.
She received many awards including honorary doctorates from California Institute of Arts (1981), Occidental College (1984), Otis Parsons College (1989), and the Juilliard School (1993)
Designated one of America's Irreplaceable Dance Treasures by the Dance Heritage Coalition and awarded the National Medal of Arts by President Clinton, Lewitzky's life demonstrates how an artist with vision and tenacity can change the lives of her fellow citizens for the better.